BikeSquare, the team
Innovative Startup, Social Enterprise aiming at promoting cycling tourism and cycling mobility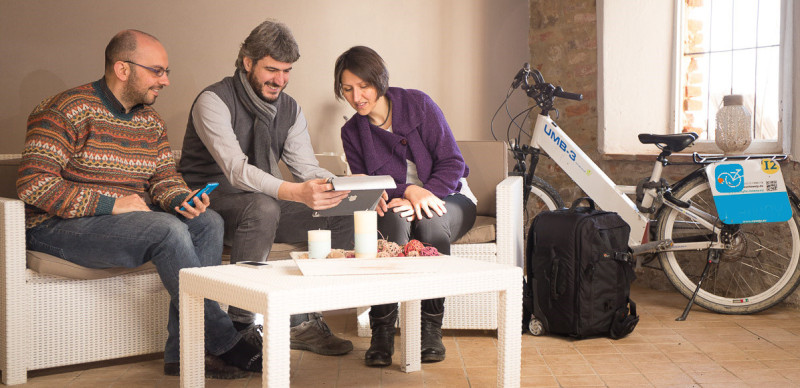 T
he Team
BikeSquare has been founded by three entrepreneurs, with a social soul. Their aim is promoting cycling tourism and cycling mobility with innovative and integrated tools.
Alberto Riva
Marketing and Sales 
Alberto's task is to make BikeSquare reach Europe.
Trustworthy and wise, Alberto is not boring at all. Born close to Milano, he studied in Turin, where he worked for years in the non-for-profit sector. Alberto arrived in Langhe to bring his knowledge to Itaway. Currently he takes care of making people know and understand that BikeSquare exists. Somebody says: 'Alberto cooks the best pumpkin risotto in Langhe'
Massimo Infunti
CEO 
The mind behind BikeSquare is Massimo.
Urban Planning and Computer Engineer, he has been passionate about the digital worlds and the cycling scene for ever. Visionary, idealis and positive thinker, Massimo has been working at Microsoft than Clickmobility. In 2003 he has founded iMpronta, dealing with ICT for sustainable development (SmartCity). Massimo has founded Itaway Langhe with Lucia Savino. Somebody says 'Massimo has a double processor'.
Lucia Savino
Web Content Manager 
Lucia deals with everything which is communication.
Concrete, talkative and curious, Lucia has been working for several years in the tecnical training sectore, moving then to the Web. Lucia has been part of the web master group of the Province of Torino for 4 years, and now she is a Drupal expert and coordinates several projects linked to cycling tourism. She defines herselft a urban cyclist (possibly a in a flat city). And when the road gets steep: long live the e-bike! Somebody says:'Lucia is our ideal working mate'.
Marco Toldo
Senior Developer
Marco is the developer of BikeSquare.
Precise, stubborn, somewhat a nerd, Marco has developed most of the BikeSquare platform. Cyclo-Map was conceived for a specific project (CycloMonviso) and then used anche for Corona di Delizie, for the Consulta Cuneese del Cicloturismo and for Itaway. Marco is currently evolving the platform and the APP and mantains what is in production. Somebody says'When Marco debugs... he gets to paradise'