Cycling mobility and tourism consultancy
A single company that deals in a holistic way with the planning and promotion of the territory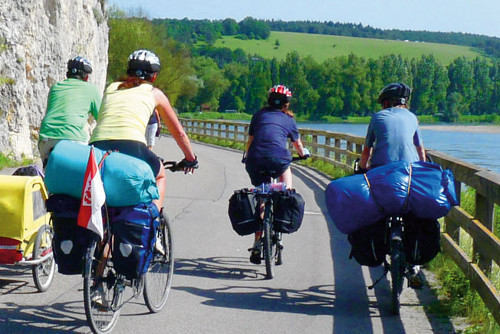 The cycle itinerary along the Danube, the Loire castles by bike, the Dutch cycling routes.
These are territories that evoke an image.
We think of places where riding is pleasant and where it is easy to find services for those who travel by bike, and so it is.
BikeSquare helps territories do this: become places where cycling is easy and where services for those who move by bike are promoted.
How?
BikeSquare helps territories identify their own cycling identity. Cycling in the Dolomites is quite different from cycling along the Danube and, thus, require a different approach to promotion. Even more different is identifying actions and taking decisions on how to make a city more accessible to bikes and branding it as a 'bike friendly' city.
BikeSquare provides innovative tools to increase the cycle attractiveness of a territory.
BikeSquare promotes participation and active involvement not only of those who travel by bike but also of the local stakehodlers, such as tourist and economic activities that are influenced and have an interest on the future development of the territory.
BikeSquare brings together different skills related to cycling tourism, information technology, communication and participatory planning.
Cycling mobility and tourism consultancy.
BikeSquare, thanks to its multidisciplinarity, offers a holistic approach to cycle planning and promotion of a territory.
The tools
Family Friendly Kit
Families are a specific and important target.
We identify the routes and services suitable for families and put them online.
Feasibility studies
We help you identify the elements that make your territory stand out as bike friendly.
Surveys and Mapping
We identify the itineraries, track them with GPS and deliver the output in an agile and easy to use format by other professionals (eg: API, KML, GIS).
Web Marketing
We take care of the promotion of the territory on the Web. We are experts on SEO, promotion on social networks, newsletters etc.
Bike Plans
Strategic and participatory planning .
Not executive projects, but long-term plans to attract financing and guarantee an integrated development of cycling tracks, itineraries and signage.
Content Creation
Texts, Logos, Photographic Services, Videos, Drones.
We collaborate with a network of experienced professionals who guarantee quality contents.
---
Icons made by
Freepik
from
www.flaticon.com